Shot Peening Success Stories for Metal Finishing & Miscellaneous
Shot peening has proved its effectiveness in extending the service life and enhancing the performance of metal components by protecting them against fatigue, fretting fatigue, stress corrosion cracking and a variety of other failure mechanisms. Following are some of these success stories for metal finishing applications:
Al 7050-T7651 High Strength Aluminum
Anodized Aluminum Rings
High Density Powder Metal Gears
Sulfide Stress Cracking
To go back to the main page of the Success Stories, click here
Al 7050-T7651 High Strength Aluminum
Fatigue specimens were prepared from high strength Al 7050-T7651. All four sides of the center test portion were shot peened. Fatigue tests were conducted under a four-point reversed bending mode (R = -1). The S-N curve of the shot peened versus non-shot peened alloy is shown in the accompanying table. It was found that shot peening improved the fatigue endurance limit by approximately 33%. Even in a regime where the stress ratio is between the yield strength and the endurance limit, the fatigue strength increased by a factor of 2.5 to almost 4.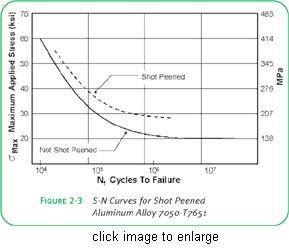 High Density Powder Metal Gears
Tooth root bending fatigue studies were performed using pulsator tests to compare a reference wrought gear steel to a 7.5 g/cm3 powdered metal gear. Both gears were 3.5 mm module consisting of 25 teeth and case hardened to 60 HRC. The wrought gear was a 16MnCr5 steel and the powdered metal gear was Fe-3.5Mo alloy content. In the accompanying graph the powdered metal gear results are depicted with the blue curves. The endurance limit improved ~ 35% with the addition of shot peening. The endurance limit improved from ~ 95 ksi (650 MPa) to ~ 128 ksi (880 MPa). The endurance limit of the shot peened powdered metal compares very closely with the non-peened 16MnCr5 material. Due to the significant cost savings of powdered metal, the shot peened powder metal gear may be a suitable replacement to the more expensive wrought steel gear. Shot peening was performed at 0.013″ A (0.32 mm A) intensity for all samples.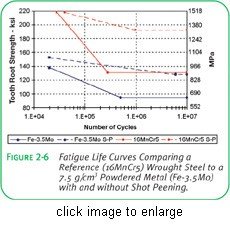 Anodized Aluminum Rings
Aluminum (AlZnMgCu 0.5) rings with external teeth were tested for comparison purposes with anodizing and shot peening. The rings had an outside diameter of ~ 24″ (612 mm) and a tensile strength of ~ 71 ksi (490 MPa). The (hard) anodizing layer was ~ 0.0008″ (0.02 mm) thick. Bending fatigue tests were conducted to find the load to cause a 10% failure probability at one million cycles. The table shows the results.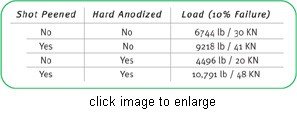 Sulfide Stress Cracking
Hydrogen sulfide (H2S) is commonly encountered in sour gas wells. Certain metal alloys when exposed to H2S will experience a significant decrease in fatigue strength. The test results shown in the table illustrate the response of precipitation hardened 17-4 stainless steel exposed to H2S with and without shot peening.