C.A.S.E. isotropic Superfinishing
C.A.S.E. (chemically assisted surface enhancement) is a two-stage process consisting of shot peening followed by vibratory superfinishing. The fatigue enhancement properties of shot peening are complimented with a mirror-like surface finish.

Applications that require both residual compressive stress and excellent surface finish include precision gears and airfoil blade geometry. Depending on the application and customer finish requirements, the valleys of peening dimples can be retained for lubricant retention.

Depending on customer requirements, a component may be super finished as a standalone process or shot-peened followed by super finishing, which is the C.A.S.E. process.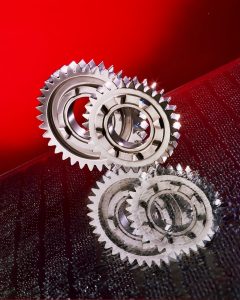 How Isotropic Superfinishing Works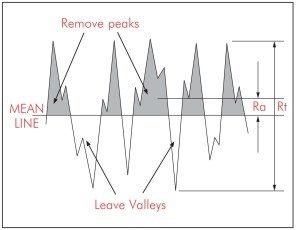 Isotropic superfinishing consists of immersing parts in a vibrating bowl charged with properly sized media. A weak acid is used to soften part surface so that contact with vibratory media removes asperities such as grinding and machining lines while retaining low spots for lubricant retention.
C.A.S.E. Isotropic Process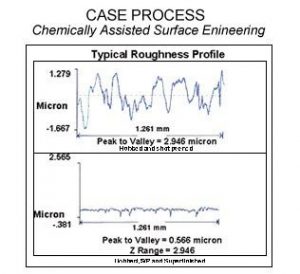 The "peak to valley" of the shot peened finish is ~ 2.9 microns. After isotropic finishing, performed as part of CASE, this improves to ~ 0.6 microns
Applications for Isotropic Superfinishing
Gears
Transmission gears and shafts
Bearings
Cams and followers
Journals
Benefits of C.A.S.E Vibratory Superfinishing
Reduced surface roughness to mirror-like finishes

Improved contact/surface fatigue strength of gearing

Reduction in transmission noise & lubricant temperature

Prevents micro and macro pitting

Rounding of sharp edges for ease of assembly
C.A.S.E. Vibratory Superfinishing – Related Articles