CONFORMAL COATINGS - ACRYLIC & URETHANE
Liquid Conformal Coatings
CWST announced that its Aliso Viejo, CA location has added liquid coating
capability to its conformal coatings' family of services. We now offer
automated, spray-on liquid acrylic and urethane materials. The equipment
offers some of the newest technologies for the application of liquid conformal
coating delivering more reliable, uniform and consistent results. Properties
of Urethane Conformal Coatings
Fungicidal
Good dielectric properties
Moisture and solvent resistance
Class F temperature rating
Abrasion resistant
Flexible
Properties of Acrylic Conformal Coatings
Clear coating
Low moisture absorption
Ultraviolet (UV) traceable
Easy to rework
Dielectric constant
Short drying time
Fungal resistant
Urethane and Acrylic Conformal Coatings - Application Methods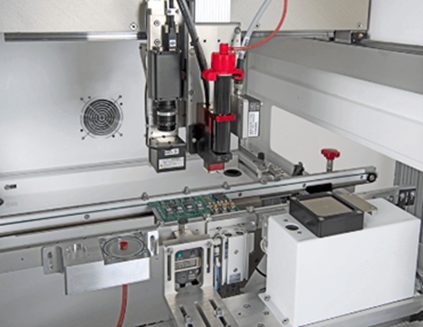 Acrylic and Urethane conformal CoatingsAcrylic and Urethane conformal coatings can be applied through different methods. These include dip, brush on, spray gun or aerosol can, and automated spray on systems. CWST has chosen an automated spray on system for a more uniform and pin hole coverage. The automated system can be adjusted to any formulation of Acrylic and Urethane materials, including different types of Humiseal materials.
Post-coating – Acrylics : Acrylics dry to the touch within 10 minutes and at room temperature, typically completely cured within 24 hours. Adding heat as a thermal cure process can reduce cure times. Acrylics do not shrink during the cure process and give off little to no heat. Cure time depends on the manufacturing recommendation. Some of the acrylic materials have to cure in the oven for 24 hours.
Post-coating – Urethanes: Single-component urethane coatings have a long cure cycle (up to several days) but are easier to apply than two-component urethane coatings. Two-component urethane coatings have a shorter cure cycle (1-3 days) but are more difficult to apply.
Due to their low chemical resistance, acrylics are ideal when components need to be removed or reworked with high frequency.
Due to their excellent chemical resistance, urethane conformal coatings can be quite difficult to remove or rework, especially after the material has gone through a full cure. 
Acrylic & Urethane Conformal Coating - Applications & Industries
Acrylic and urethane conformal coatings are a commonly used surface protection mechanism for printed circuit board and electronics applications. These types of conformal coatings are recognized by industry standards like MIL-I-46058 and IPC-CC-830.
Acrylic and Urethane conformal coatings are used extensively within the following industries:
Defense
Commercial aerospace
Automotive
Other industries
Selecting the Right Conformal Coating
The application and functionality of the device drives the selection of conformal coating family (e.g., parylene, acrylic or urethane) and also which type/grade within these coatings.
With the addition of liquid coatings, Curtiss-Wright Surface Technologies has now positioned ourselves as a one-stop shop for customers' conformal coating requirements. Our extensive experience with parylene coatings lends itself perfectly to this synergistic conformal coating expansion.